Indonesia aims to double gas production by 2030
The government of Indonesia plans to double gas production in the archipelago over the next decade, in bid to reduce the country's energy trade deficit. The country intends to produce 127 bcm of natural gas in 2030, against 72 bcm in 2018. The government previously said the country could become self-sufficient in 2025.
The additional gas production could come from two projects, the Masela offshore block off the Maluku coast and Sakakemang block in South Sumatra, where Repsol discovered up to 57 bcm of gas reserves in February 2019. In July 2019, the Ministry of Energy approved the revised development plant for the Masela LNG project proposed by Inpex. As agreed in June 2019, the project includes developing the Abadi gas field in the Masela gas block and building a 9.5 Mt/year onshore gas liquefaction plant, gas pipelines and offshore facilities.
---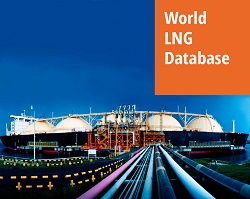 World LNG Database offers a complete set of data on LNG markets. The service provides detailed information on existing and planned liquefaction and regasification plants. It also includes LNG shipping around the world, LNG contracts, time series on regasification and liquefaction capacities, LNG flows and LNG prices for all players in the market.