Indian coal-fired power capacity may grow by 22% by 2022
According to the Federal Ministry of Power of India, India's coal-fired power capacity is expected to increase by more than 22% by 2022, as domestic electricity demand keeps on rising (though at a slower pace in the last four years). Most of the capacity additions should come from state-owned power utilities (owned by the state or federal governments), such as NTPC. NTPC is the largest power generation company in India and has announced plans to raise its coal-fired power capacity from the current 47 GW to 85 GW by 2032.
Since the power sector accounts for more than 75% of the total coal demand, these new coal-fired power capacities should boost coal consumption, which already rose by 9.1% to nearly 1 Gt in the fiscal year 2018-2019 (April 2018-March 2019). They might also neutralise India's efforts to reduce CO2 emissions by promoting renewable energy.
---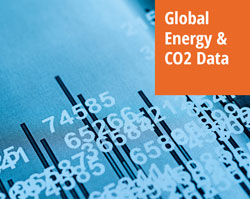 Then Global Energy Market Data & CO2 is your database! We provide world coverage of the oil, gas, coal, and power markets and a detailed overview of national supply & demand with annual data going back to 1970.
This energy database leverages more than 200 official data sources, which are processed by our analysts to provide fully harmonized data sets that are updated monthly.