India will require DISCOs to source 43% of their supply from renewables in 2030
The Indian Ministry of Power has issued its Renewable Purchase Obligation (RPO) until the fiscal year (FY) 2029-2030, which requires distribution companies to draw a minimum share of their total electricity consumption from renewables. The share of renewables in the electricity supply of distribution companies is expected to increase from 24.61% in FY 2022-2023 to 33.01% for FY 2025-2026 and 43.33% in FY 2029-2030. 
Specifically, the share of other renewables, which comprises solar, will increase from 23.44% in FY 2022-2023 to 28.17% in FY 2025-2026 and 33.57% in FY 2029-2030. Other RPO can be met by energy produced from any renewable energy project. The share of wind should rise from 0.81% in FY 2022-2023 to 3.36% in FY 2025-2026 and 6.94% in FY 2029-2030. A specific wind RPO has been specified to boost wind installations and reduce the cost of power generated from wind. It can only met by energy from wind power projects commissioned after 31 March 2022. On the other hand, a specific Solar RPO has been left out because the cost of power generated from solar has reached India's desired level. The share of hydropower will increase from 0.35% in FY 2022-2023 to 1.48% in FY 2025-2026 and 2.82% in FY 2029-2030. Hydropower RPO will be met only by energy produced from large hydro projects, including pumped hydro, commissioned between March 2019 and March 2030.
The country also unveiled its Energy Storage Obligation (ESO), which should increase from 1% of total electricity consumption of distribution companies in FY 2023-2024 to 4% in 2029-2030. At least 85% of the energy stored must be supplied by renewables.
In 2021, solar accounted for 3% of India's total electricity production (51 TWh), wind for 5% (86 TWh) and hydro for 10% (167 TWh).
---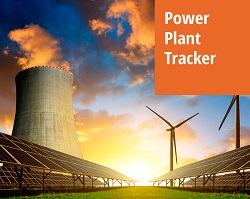 Enerdata has developed a market research service to screen, monitor and analyse the development of power generation assets.
Power Plant Tracker offers an interactive database and a powerful search engine covering power plants worldwide – including both installed and planned capacities for renewables and fossil fuels.