Iberdrola takes majority stake in Swedish offshore wind projects (9 GW)
The Spanish energy group Iberdrola has signed an agreement with Svea Vind Offshore (SVO) to take a majority stake in eight offshore wind projects in Sweden. The projects, with a total capacity of 9 GW, are expected to start operating from 2029 onwards. Projects are grouped around two geographical zones: Gavle (six projects totalling 5.1 GW of power capacity) and Oxelosund (two projects totalling another 3.9 GW). The Swedish government plans to source 100 % of its electricity from renewables by 2040.
Iberdrola, which is already generating power from three offshore wind parks, namely West of Duddon Sands (located in the United Kingdom, commissioned in 2014), Wikinger (Germany, 2017) and East Anglia ONE (United Kingdom, nearing completion and commissioning), aims to reach 2 GW of offshore wind capacity in late 2022 and 3 GW by 2024. Iberdrola is developing two offshore wind projects in the German Baltic Sea, Baltic Eagle and Wikinger South (combined capacity of 486 MW) and two offshore wind projects in the United States, 800 MW Vineyard Wind off Massachusetts and an 804 MW project off Connecticut. The group recently raised its stake in the 496 MW Saint-Brieuc offshore wind project off Brittany in France (expected in 2023) and signed a letter of intent (LoI) with Poland's energy group Enea to jointly develop offshore wind project in the Polish Baltic Sea, targeting a total of capacity of up to 3.3 GW.
---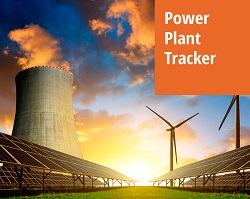 Enerdata has developed a market research service to screen, monitor and analyse the development of power generation assets.
Power Plant Tracker offers an interactive database and a powerful search engine covering power plants worldwide – including both installed and planned capacities for renewables and fossil fuels.