Iberdrola and AXA partner for a 1 GW offshore wind park in Normandy (France)
The Spanish utility Iberdrola has signed a memorandum of understanding with the French firm AXA IM to collaborate in the deployment of offshore wind energy in France. Under the agreement, AXA IM would participate as a minority shareholder in the development of a 1 GW offshore wind project, located 30 km off the coast of Normandy (northwestern France), if Iberdrola were to be awarded the project in the AO4 auction in which it has already been shortlisted. Bids for the A04 tender will be sumitted on 10 November 2023 and the award is scheduled for the first quarter of 2023.
In addition to this tender, Iberdrola has also been pre-qualified for the development of three other offshore wind energy projects each with a capacity of 250 MW. Two of them in the Gulf of Lion, off the coast of the Occitanie region (southern France), which are expected to be awarded in the fall of 2023 and are scheduled for commissioning in 2030. The third 250 MW project Iberdrola is bidding for is France's first floating offshore wind farm, to be built 20 km off Pointe des Poulains, Brittany (northwestern France). The French government plans to designate the winner of the tender in the spring of 2023 and start operations in 2030.
Iberdrola is currently building the 500 MW Saint-Brieuc offshore wind park, located in Brittany, which is scheduled to be commissioned in 2023.
France targets 40 GW of offshore wind capacity by 2050. The country intends to award 2 GW of projects each year from 2024. The 480 MW Saint-Nazaire offshore wind park, located off the coast of the Guérande peninsula in Loire-Atlantique, western France, which is the country's first commercial-scale offshore wind project, was commissioned in September 2022.
---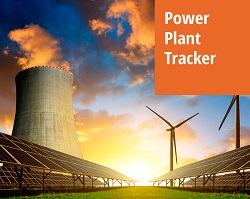 Enerdata has developed a market research service to screen, monitor and analyse the development of power generation assets.
Power Plant Tracker offers an interactive database and a powerful search engine covering power plants worldwide – including both installed and planned capacities for renewables and fossil fuels.