Hungarian regulator clears construction of 2.5 GW Paks II nuclear project
The Hungarian Energy and Public Utilities Regulatory Authority (MEKH) has issued a construction permit to Paks II. Atomerőmű for the construction of two 1,200 MW VVER reactors at the existing Paks nuclear power plant (four VVER-440 pressurised water reactors). The application had been submitted in October 2020. Paks II. Atomerőmű still needs to obtain a construction licence from the Hungarian Atomic Energy Authority (HAEA) to begin construction of the reactors. The project, awarded in 2014 without a tender to Rosatom, encompasses the construction of two 1,200 MW reactors and the supply of nuclear fuel. In addition, Russia could lend US$10bn to fund the US$12bn project. Under the current processes for license and permitting, the pre-construction site preparation of the plant could start in early 2021, and the project company expects to obtain a license for the construction of the main building in September 2021.
---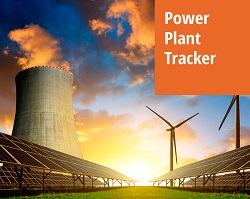 Enerdata has developed a market research service to screen, monitor and analyse the development of power generation assets.
Power Plant Tracker offers an interactive database and a powerful search engine covering power plants worldwide – including both installed and planned capacities for renewables and fossil fuels.