The Greece to Cyprus EuroAsia power interconnector phase 1 enters construction
Greece and Cyprus have started building the first phase of the EuroAsia interconnector, which will consist of a 1,000 MW undersea cable connecting the electricity grids of the two countries via Crete. Cyprus is the last non-interconnected EU member state. Commissioning is scheduled by the end of 2026. As a second phase, once the Cyprus to Crete project is completed, an electricity link between Cyprus and Israel will be constructed.
The project, listed under the fifth EU list of Projects of Common Interest (PCI), is a multi-terminal high-voltage, direct current scheme which will connect the transmission networks of Greece, Cyprus and Israel, and will comprise three converter stations with sea-electrodes, interconnected by cables. At full deployment, the 500 kV interconnector will allow the transfer of 2,000 MW. Its total offshore length is 1208 km (310 km Cyprus to Israel, 898 km Cyprus to Crete), while its onshore length is 25 km.
The interconnector secured a €100m grant from the European Commission in July 2021. In January 2022, EU countries agreed to invest €657m in the project under the Connecting Europe Facility (CEF). Nexans Norway was selected in July 2022 as he preferred bidder for the award of the contracts for the engineering, procurement, construction and installation of the two HVDC cable systems for the first phase of the interconnector.
---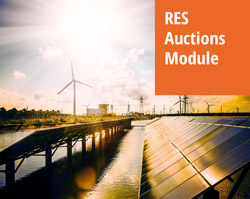 Discover our very detailed and regularly updated RES auctions database with worldwide coverage and a technical focus backed by academic research.
With our renewable energies auctions service you will be able to monitor auctions at a global level. Its (expanding) scope notably includes all major G20 countries and offers an especially fine tracking on Europe and South America.