Greece and Egypt consider new gas interconnection
Greece and Egypt have signed a Memorandum of Understanding to strengthen their cooperation in the supply of gas and LNG. The MoU focuses on LNG trading and on research and exploration activities, and considers the development of a submarine gas pipeline to interconnect the Greek and Egyptian gas networks.
Greece, Italy and Egypt along with Cyprus, Israel, and Jordan are part of the so-called Eastern Mediterranean Gas Forum, which seeks to develop the region's gas market. In August 2020, Greece and Egypt signed an agreement establishing an exclusive economic zone (EEZ) in the eastern Mediterranean that contains promising oil and gas reserves. In October 2021 the two countries signed an MoU to build a 1 GW subsea high-voltage direct current (HVDC) line between Egypt, Cyprus and Greece (Crete and Attica). The phase 1 of the project is expected to cost €2.5bn. The interconnection between Egypt and Cyprus should be commissioned in December 2022, while Cyprus-Crete link could be operational in December 2023.
---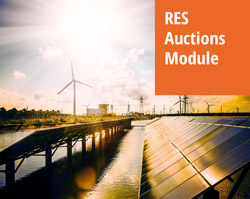 Discover our very detailed and regularly updated RES auctions database with worldwide coverage and a technical focus backed by academic research.
With our renewable energies auctions service you will be able to monitor auctions at a global level. Its (expanding) scope notably includes all major G20 countries and offers an especially fine tracking on Europe and South America.