Global wind capacity rose by 12.5% to 318 GW in 2013
According to the latest statistics released by the GWEC, global wind capacity increased by 12.5% in 2013, reaching 318,137 MW. During the year, 35,467 MW were installed worldwide, which is almost 10 GW below capacity additions in 2012. US installations were badly impacted by a policy gap created by the US Congress in 2012; in Europe, installations grew by a modest 8%, and were pulled by two countries, Germany and the United Kingdom. Installations soared in China (+16.1 GW, i.e. +21% to 91.4 GW), in Canada (+1.6 GW, i.e. +26%, to 7.8 GW) and in Australia (+655 MW, i.e. + 25%, to 3.2 GW). China accounted for 45% of new installations during the year; the government's commitment to wind power has been reinforced once again by raising the official target for 2020 to 200 GW. According to GWEC forecasts, 2014 installations should increase strongly, returning to 2012 levels (about 45 GW) and maybe surpass them.

Source: GWEC
---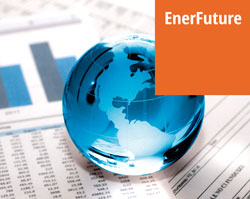 Discover the EnerFuture service: a long-term forecast (to 2050) of demand, prices, and CO2 emissions by sector and for all energies, plus power generation capacities and production levels by fuel. Three distinct scenario reflect different potential policy developments.