Global wind capacity reached 487 GW in 2016 with 54 GW added
According to the Global Wind Energy Council (GWEC), global wind additions reached 54.6 GW in 2016, raising total capacity to nearly 487 GW. This capacity addition is lower than the record posted in 2015 (+63.6 GW) but 2017 should see significant installations too.
Ten country accounted for 88% of total installations, with 47.9 GW installed. As in previous years, China was the largest installer in 2016 with nearly 43% of global installations. The country installed 23.3 GW in 2016 (compared to 30 GW in 2015, due to impending feed-in tariff reductions) and reached 168.7 GW. This is twice the installed capacity in the United States (82.2 GW), where 8.2 GW were installed during the year (as in 2015). Canada (702 MW) and Mexico (454 MW) posted solid though modest gains. India set a new national record with 3.6 GW of new installations, becoming the 4th largest market with 28.7 GW. Nearly 14 GW were installed in Europe, thanks to Germany (+5.4 GW), France (+1.6 GW) and Turkey (+1.4 GW). In Latin America, Brazil installed 2 GW, followed by Chile (+513 MW).
Where offshore wind capacity is concerned, 2.2 GW were installed during the year, raising global offshore capacity to 14.4 GW. Germany installed 813 MW during the year, reaching 4.1 GW and maintaining its second rank behind the United States (+56 MW, to 5.2 GW). With 592 MW installed offshore, China overtook Denmark as the third largest offshore wind capacity (1.6 GW for China, compared to 1.3 GW for Denmark). The Netherlands installed 691 MW, reaching 1.1 GW.
---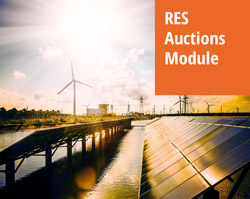 Discover our very detailed and regularly updated RES auctions database with worldwide coverage and a technical focus backed by academic research.
With our renewable energies auctions service you will be able to monitor auctions at a global level. Its (expanding) scope notably includes all major G20 countries and offers an especially fine tracking on Europe and South America.
---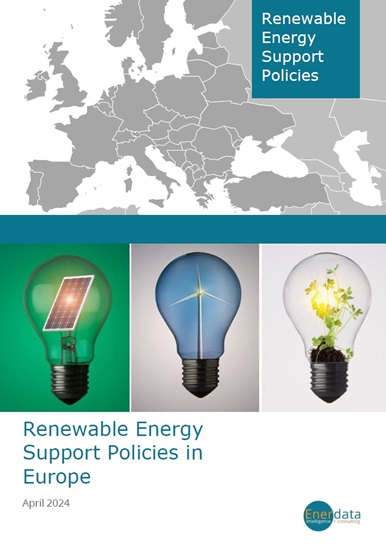 The European renewable report focuses on the different renewable energies for each country in Europe.
It covers the different support schemes used to promote renewable energy in for major sources of renewable energy: hydroelectricity, wind, solar, liquid biofuels for transportation, geothermal and oceanic sources (wave, tidal and thermal).