Global wind capacity increased by over 60 GW in 2019
According to the Global Wind Energy Council (GWEC), a total of 60.4 GW of wind capacity was installed worldwide in 2019 (19% more than in 2018), raising the global wind capacity by 10% to more than 650 GW.
Two-thirds of the new capacities came from auctions (40 GW in 2019, twice the 2018 level) and 70% of the new capacity (over 42 GW) were installed in five countries, namely China (26 GW), the United States (9.1 GW), the United Kingdom (2.4 GW), India (2.4 GW) and Spain (2.3 GW). Thanks to China and India, the Asian Pacific region added 30.6 GW of new wind capacity in 2019 (including 2.5 GW offshore), raising cumulative installations to nearly 291 GW. Wind capacity increased by 3.7 GW in Central, and South America, and by 944 MW in Africa and the Middle East to over 6 GW (thanks to installations in South Africa (3.5 GW), Egypt (1.8 GW), Morocco (1.2 GW), and Saudi Arabia (1.2 GW)). In terms of cumulative installations, China, the US, Germany, India and Spain accounted for 73% of the global wind capacity.
The GWEC will revise its market outlook to 2024, which expected wind installations to increase by around 71 GW each year until 2024 (+355 GW), to reflect the full impact of the COVID-19.
---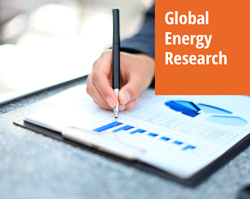 Enerdata's premium online information service provides up-to-date market reports on 110+ countries. The reports include valuable market data and analysis as well as a daily newsfeed, curated by our energy analysts, on the oil, gas, coal and power markets.
This user-friendly tool gives you the essentials about the domestic markets of your concern, including market structure, organisation, actors, projects and business perspectives.