According to the Global Wind Energy Council (GWEC), the global wind capacity increased by 93.6 GW in 2021 (+12%), to 837 GW.
Onshore wind installations slowed down with 72.5 GW added in 2021 (-18%), due to lower installations in China and the United States. China installed 30.7 GW of onshore wind capacity in 2021 (-39% compared to 2020), owing to the termination of the feed-in tariff), while the United States only added 12.7 GW (-25%) due to supply chain issues. However, these lower installations in the two largest markets were partly offset by record-high growth in Europe (+14.1 GW, including 2.1 GW in Sweden, 1.9 GW in Germany, and 1.5 GW in Turkey), Latin America (+5.8 GW, including 3.8 GW in Brazil) and Africa and the Middle East (+1.8 GW, including 668 MW in South Africa).
Offshore wind installations soared in 2021 with 21.1 GW installed (three times more than the 6.9 GW installed in 2020), spurred by China (16.9 GW), the United Kingdom (2.3 GW), Denmark (605 MW), the Netherlands (392 MW) and Asian-Pacific countries (excluding China and South Korea, 888 MW). Auctioned capacity rose by 153% in 2021, with 88 GW awarded in 2021, including 69 GW onshore and 19 GW offshore. A significant part was awarded in China (52 GW, including 49 GW of onshore "grid parity projects").
The GWEC expects a significant growth in new installations until 2026 (+6.6%/year), with annual onshore wind installations rising from 72.5 GW in 2021 to 97.4 GW in 2026; annual offshore wind capacity additions should also accelerate, from 21.1 GW in 2021 to 31.4 GW in 2026; overall, wind capacity additions should exceed 100 GW/year as of 2022, reaching 128.8 GW in 2026. China should continue leading installations (41% of total capacity additions in 2026), followed by Europe (14% in 2026) and North America (7% in 2026).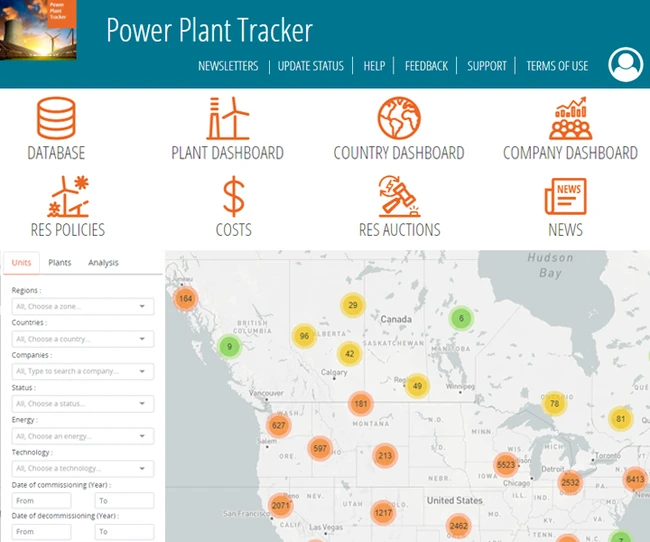 Enerdata has developed a market research service to screen, monitor and analyse the development of power generation assets.
Power Plant Tracker offers an interactive database and a powerful search engine covering power plants worldwide – including both installed and planned capacities for renewables and fossil fuels.