GHG emissions under the EU ETS scheme fell by 4.1% in 2018
According to the annual report on the functioning of the European carbon market, greenhouse gras (GHG) emissions from installations covered by the EU ETS decreased by 4.1% (around 73 MtCO2eq) to 1,682 MtCO2eq in 2018, thanks to a 7.3% drop in emissions from the power and heat production sector (down to 913 MtCO2eq). Verified emissions from the industrial sector remained stable (-0.1%) at 769 MtCO2eq, while those from aviation grew by 3.9% to 67 MtCO2eq.
In 2018, higher CO2 prices contributed to double revenues for Member States from selling ETS allowances to €14bn (compared to 2017). Most of these revenues (around 70%) were or will be invested in advancing climate and energy objectives, which is above the 50% required in the legislation. Placing allowances in the Market Stability Reserve continued in 2018 and 2019 (1.65 billion allowances), reducing the 2019 auction volume by nearly 40% i.e. almost 400 million allowances.
Moreover, new implementing legislation on free allocation, the Innovation Fund, auctioning, monitoring, reporting, accreditation and verification (MRVA), and the Union Registry was adopted in 2018.
---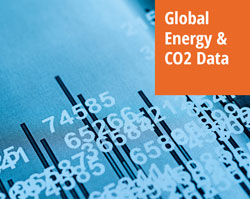 Then Global Energy Market Data & CO2 is your database! We provide world coverage of the oil, gas, coal, and power markets and a detailed overview of national supply & demand with annual data going back to 1970.
This energy database leverages more than 200 official data sources, which are processed by our analysts to provide fully harmonized data sets that are updated monthly.