Germany's electricity is forecast to reach 658 TWh in 2030
According to the German Federal Ministry of Economics, gross electricity consumption in Germany is expected to increase from 595 TWh in 2018 to 658 TWh (+11%). The main drivers of the growth in electricity consumption are the transport sector, electric heat pumps in building and heating networks, the production of green hydrogen and the production of batteries. The rise in electricity consumption should yet be dampened by the increased energy efficiency and the reduced self-consumption of power plants due to the phase-out of nuclear and coal-fired power generation. The forecast takes account into the country's new climate targets. In May 2021, the country updated its climate goals and now aims at a 65% cut in GHG emissions by 2030 compared with 1990.
Electricity consumption has decreased by 0.6%/year since 2010, with an acceleration between 2017-2019 (1%/year on average). It declined 5% in 2020 alone to 489 TWh, i.e. 11% less than in 2010. Electricity consumption is dominated by industry (41% in 2020), followed by services and the residential sector (26% each). 
---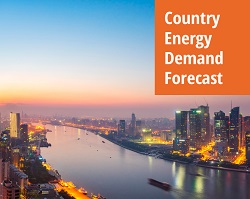 We recommend then Country Energy Demand Forecast (CEDF) providing exclusive long-term forecasts of energy demand by end use and underlying drivers, from robust recognised EnerMED Model.
A very simple and ready-to-use service (already calibrated Enerdata scenarios with both data standard and customisable assumptions.