Germany inaugurates its first LNG terminal in Wilhelmshaven
The German government has inaugurated its first floating LNG terminal in the port of Wilhelmshaven (northwestern Germany), which will host a 7.5 bcm/year floating storage and regasification unit (FSRU), starting from late December 2022 or early January 2023. The terminal, whose construction started in May 2022, was developed and will be operated the German company Uniper.
Uniper's Wilhelmshaven terminal is part of several German LNG projects initiated since the start of the war in Ukraine, as Germany is trying to avoid an energy crisis this winter amid dwindling supplies of Russian gas.
In September 2022, the American company Excelerate announced it would deploy a 5 bcm FSRU, also in Wilhelmshaven. In May 2022, Germany announced it would charter four FSRUs (two by Uniper and two by RWE) with a total added import capacity of 25 to 29 bcm/year. Also in May, RWE signed a preliminary deal with Sempra to import 2.25 Mt/year (3 bcm/y) of US LNG. In March 2022, Gasunie and RWE announced plans for an 8 bcm/year LNG import terminal in Brunsbüttel.
Prior to the completion of the Wilhelmshaven terminal, Germany did not possess any LNG receiving terminal, as 100% of its gas imports (156 bcm in 2021) were conveyed by pipeline, mostly from Russia (43% in 2020).
---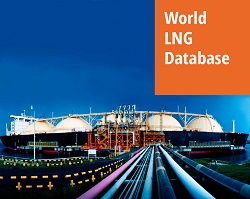 World LNG Database offers a complete set of data on LNG markets. The service provides detailed information on existing and planned liquefaction and regasification plants. It also includes LNG shipping around the world, LNG contracts, time series on regasification and liquefaction capacities, LNG flows and LNG prices for all players in the market.