Gazprom's OGK-2 added 1 GW of new coal-fired capacity in 2016 (Russia)
Russian gas giant Gazprom has announced that power generation from companies in which it holds stakes, namely Mosenergo, MOEK, TGC-1, and OGK-2, rose by 6.1% in 2016 to 158 TWh, while heat production rose by 6.5%.
This increase is related to the commissioning of new efficient capacities under capacity supply agreements (CSAs), while the reduction in the capacity utilization of inefficient power units and the efforts taken to increase operating efficiency and optimize costs significantly improved financial results. In 2016, OGK-2 commissioned 1 GW of new coal-fired power capacity (a 660 MW unit at the Troitsk power plant in the Chelyabinsk Region and a 330 MW unit at the Novocherkassk power plant in the Rostov Region), while a new 100 MW gas-fired CHP power plant was completed in Saint Petersburg.
Gazprom entered the power sector in 2007; since that date, the group has completed more than 30 thermal power projects and some small hydropower projects, with a total power capacity of 8.5 GW.
---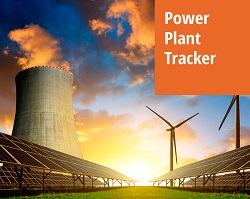 Enerdata developed a market research service to screen, monitor and analyse the development of power generation assets.
Power Plant Tracker offers an interactive database and a powerful search engine covering power plants worldwide - both installed and projects.