Gas flow from Lithuania to Latvia will increase by 1/3 to 2.9 bcm/year
Gas transmission capacity from Lithuania to the Latvian gas system will be increased by one third to 90 GWh/day (equivalent to 2.9 bcm/year) from 1 November 2022. This advanced increase of gas transmission capacity from Lithuania to Latvia has been agreed by the transmission system operators (TSO) of both countries, Amber Grid and Conexus Baltic Grid.
Both companies are implementing the ELLI (Enhancement of Latvia-Lithuania Interconnection) project, meant to increase the capacity of the gas pipeline link between the two countries. Since 2019, Latvia and Lithuania are increasing their interconnection capacity by replacing existing pipes to boost capacity for flows up to 3.9 bcm/year from Latvia to Lithuania and 4.3 bcm/year from Lithuania to Latvia. The project is expected to be completed in 2023 and will multiply by two the gas interconnection between the two countries, which currently stands at 2.3 bcm/year in both directions.
Latvia is currently focusing on diversifying its gas supply options, as Russia's Gazprom announced on 30 July 2022 that it had stopped supplying the country with gas, accusing Riga of violating conditions for gas withdrawals.
---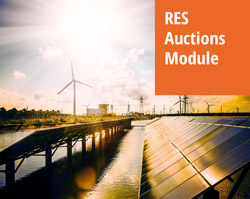 Discover our very detailed and regularly updated RES auctions database with worldwide coverage and a technical focus backed by academic research.
With our renewable energies auctions service you will be able to monitor auctions at a global level. Its (expanding) scope notably includes all major G20 countries and offers an especially fine tracking on Europe and South America.