Gas filling of Nord Stream 2 gas pipeline starts (Russia-Germany)
Nord Stream 2 has started filling gas into the first string of the Nord Stream 2 gas pipeline. In addition, the Danish Energy Agency has authorised Nord Stream 2 to put pipeline B in operation; the pipeline A still needs some conditions to be met to enter operations.
The construction of the €9.5bn (US$11bn) Nord Stream 2 gas pipeline was completed in September 2021, doubling the throughput of the current Nord Stream route between Vyborg (Russia) and Greifswald (Germany), from 55 bcm/year to 110 bcm/year. It is developed by Gazprom (50%), Uniper, Shell, OMV, Wintershall and Engie (10% each) and construction started in May 2018. The project is yet to receive an operating licence from the German energy regulator Federal Network Agency (Bundesnetzagentur or BNetzA). In August 2021, the Dusseldorf Higher Regional Court refused to exempt the Nord Stream 2 gas pipeline from the application of the renewed EU Gas Directive (the ruling can be appealed). The rules require the owners of pipelines to be different from the suppliers of the gas that flows in them to ensure fair competition.
---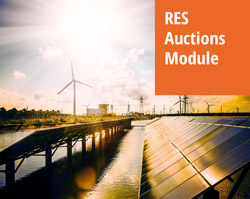 Discover our very detailed and regularly updated RES auctions database with worldwide coverage and a technical focus backed by academic research.
With our renewable energies auctions service you will be able to monitor auctions at a global level. Its (expanding) scope notably includes all major G20 countries and offers an especially fine tracking on Europe and South America.