French government scraps 2019 road fuel tax hikes
The French government has scrapped the planned road fuels and carbon tax hikes that have led to weeks of protests throughout the country. The government initially had announced a 6-month moratorium on these tax rises but it eventually abandoned them for the year 2019 due to continued protestations.
Three measures were initially slated to enter into force in January 2019: the carbon tax increase on gasoline fuel oil and diesel, the convergence of taxation for diesel and gasoline and the alignment of diesel taxation for individuals and for off-road contractors (GNR or gazole non routier). All of them will be scrapped for the entire 2019 year.
Besides, the Government announced that the planned increases in gas and electricity prices for the current winter season will be halted and the toughening of rules for vehicle emissions will also be postponed.
The carbon tax, called Contribution Climat-Énergie, was introduced in France as part of the 2014 fiscal law. The tax rate was raised from €7/tCO2 in 2014 to €44.6/tCO2 in 2018. The Energy Transition Act of 2015 set the carbon tax level at €56/tCO2 in 2020 and €100/tCO2 in 2030. This level was raised to €140/t by 2030 in the new Climate Plan of 2017.
---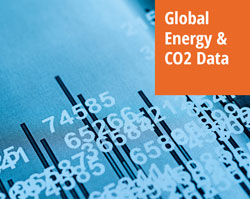 Then Global Energy Market Data & CO2 is your database! We provide world coverage of the oil, gas, coal, and power markets and a detailed overview of national supply & demand with annual data going back to 1970.
This energy database leverages more than 200 official data sources, which are processed by our analysts to provide fully harmonized data sets that are updated monthly.