The French government has unveiled its climate plan until 2040
The French Ministry of Ecology and Sustainable Transition ( Ministère de la Transition Écologique et Solidaire ) unveiled its Climate Plan (CP) and several upcoming measures have been announced in order to reduce France's carbon footprint. It reminded the irreversibility of the Paris Agreement and laid down a roadmap with six core topics which shall be submitted to the National Council of Ecology Transition (Conseil national de la transition écologique) in July 2017.
The government has set 2050 as deadline to achieve domestic carbon neutrality and ensure that the level of greenhouse gas emissions (GHG) is not higher than the captured emissions. 2040 will be the deadline for the end of domestic fossil fuels exploitation and in particular hydrocarbons (including both conventional and non-conventional). New licenses will be forbidden and the existing ones shall not be renewed. In order to achieve this objective, it already announced that a 40% increase in the carbon price per ton up to €140/t shall be implemented by 2030.
The last French coal-fired power plants will be closed by 2022. The Ministry also confirmed an objective of a 32% share for renewables in the energy mix by 2030 and plans to decrease the share of nuclear energy down to 50% by 2025.
Another important announcement is end of gasoline and diesel cars sales by 2040. Modest households will benefit from a premium to get rid of their polluting cars in favor of a cleaner vehicle and subsidies for the purchase of less polluting cars will be implemented.
---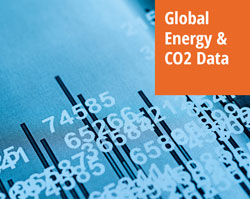 Then Global Energy Market Data & CO2 is your database! We provide world coverage of the oil, gas, coal, and power markets and a detailed overview of national supply & demand with annual data going back to 1970.
This energy database leverages more than 200 official data sources, which are processed by our analysts to provide fully harmonised data sets that are updated monthly.