France's solar PV installed capacity surpasses 10 GW, 50% of 2023 targets
According to the French Syndicat des Energies Renouvelables (SER), France's total renewable energy capacity (wind, solar, hydropower, and bioenergy) has reached 55.3 GW in September 2020, with solar PV surpassing the 10 GW milestone. This means that solar PV capacity is halfway from reaching the Pluriannual Energy Programming's (PPE) target for 2023 of 20,100 MW. Wind capacity reached 17.2 GW, i.e. 71.5% of the 24,100 MW target foreseen for 2023 under the PPE. Furthermore, the hydropower capacity reached 25.7 GW (+170 MW over the same period of 2019), over 99% of the PPE's target, while bioenergy capacity reached 2.15 GW.
In April 2020, the French government issued two decrees implementing the Multi-annual Energy Plan to 2028 (Programmation pluriannuelle de l'énergie, PPE) and the National Low Carbon Strategy, which were first released in January 2019. The parliament adopted the French Strategy for Energy and Climate (Energy-Climate Act), which is based on these two policies, in September 2019. The French Strategy for Energy and Climate aims to achieve carbon neutrality by 2050. The renewable power generation capacity should be doubled by 2028 compared to 2017 and the share of renewables in the final energy consumption should be raised to 33% by 2030.
---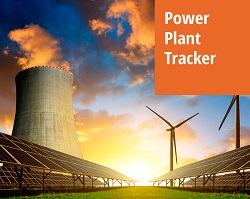 Enerdata has developed a market research service to screen, monitor and analyse the development of power generation assets.
Power Plant Tracker offers an interactive database and a powerful search engine covering power plants worldwide – including both installed and planned capacities for renewables and fossil fuels.
---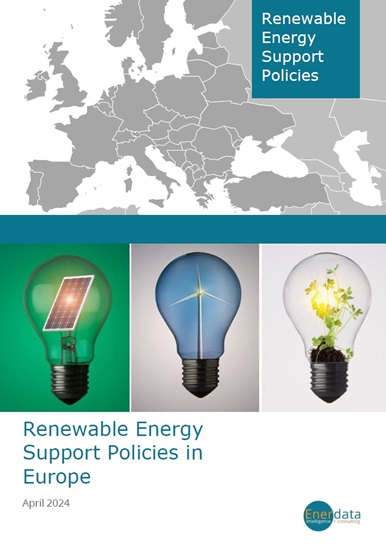 The European renewable report focuses on the different renewable energies for each country in Europe.
It covers the different support schemes used to promote renewable energy in for major sources of renewable energy: hydroelectricity, wind, solar, liquid biofuels for transportation, geothermal and oceanic sources (wave, tidal and thermal).