Five firms shortlisted for Interconnector Greece-Bulgaria gas pipeline
Project company Interconnector Greece-Bulgaria (ICGB) has shortlisted five companies to design and build the 182 km-long gas pipeline project between the two countries. The selected bidders are scheduled to file their offers by the end of March 2019. Besides, the construction start has been pushed back and could take place by the end of May 2019 at the earliest. The project was expected to be commissioned in late 2020 but could be delayed as well.
Once built, the gas pipeline project will link Komotini (Greece) to Stara Zagora (Bulgaria) and enable the supply of Azeri gas to Bulgaria through the Turkey-Greece-Italy pipeline (ITGI). It will eventually be connected to the Trans Adriatic Pipeline (TAP) project and to the Revithoussa LNG terminal in Greece, delivering Azeri gas to Italy through Greece and Albania. The IGB pipeline will have a capacity of 3 bcm/year, to be later raised to 5 bcm/year with reverse flow capacity. The final investment decision on the €220m project (partly financed by European funds) was made in December 2015.
---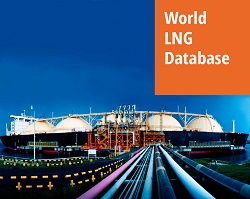 World LNG Database offers a complete set of data on LNG markets. The service provides detailed information on existing and planned liquefaction and regasification plants. It also includes LNG shipping around the world, LNG contracts, time series on regasification and liquefaction capacities, LNG flows and LNG prices for all players in the market.