European wind capacity overtook coal in 2016
According to European wind association WindEurope (former EWEA), a total of 12,490 MW of new wind capacity - 10,923 MW onshore and 1,567 MW offshore - were added in the European Union, raising the installed wind capacity in Europe to 153.7 GW. This 12.5 GW addition is slightly lower than 2015 installations (+12.8 GW) but new wind capacities accounted for 51% of all new power installations in 2016; renewable energies altogether accounted for 86% of new power plants installations and wind overtook coal as the second largest form of power generation capacity. Wind now accounts for 17% of the EU's power capacity.
Five EU Member States had a record year in new wind energy installations in 2016: France (+1.6 GW to 12.1 GW), the Netherlands (+887 MW to 4.3 GW), Finland (+570 MW to 1.5 GW), Ireland (+384 MW to 2.8 GW) and Lithuania (+178 MW to 493 MW). Turkey also broke its record for annual new installations, with a capacity addition of 1,387 MW, reaching 6,081 MW.
Investment in new onshore and offshore wind farms reached a record €27.5bn. Offshore wind investments rose 39% year on year to €18.2bn, while onshore investments were down 29% at €9.3bn, their first decrease in the last five years. In total, there were 10.3 GW of new wind capacity financed in 2016.
---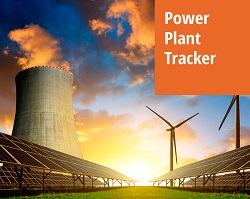 Enerdata has developed a market research service to screen, monitor and analyse the development of power generation assets.
Power Plant Tracker offers an interactive database and a powerful search engine covering power plants worldwide – including both installed and planned capacities for renewables and fossil fuels.
---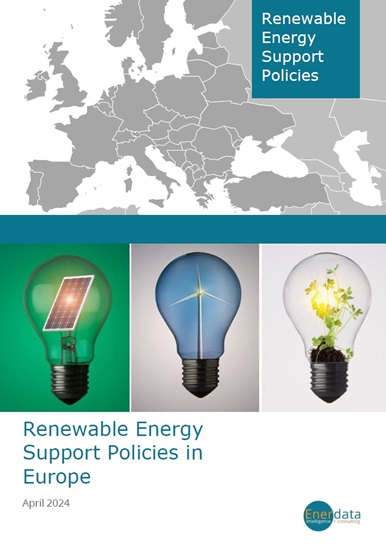 The European renewable report focuses on the different renewable energies for each country in Europe.
It covers the different support schemes used to promote renewable energy in for major sources of renewable energy: hydroelectricity, wind, solar, liquid biofuels for transportation, geothermal and oceanic sources (wave, tidal and thermal).