European Commission clears €459m climate investment in Slovakia
The European Commission has adopted the Territorial Just Transition Plan (TJTP) for Slovakia that identifies territories facing specific challenges in their transition to a climate-neutral economy and directs investments from the Just Transition Fund (JTF) to these vulnerable regions. The JTF will invest €459m to help the metals and chemicals industries in the Upper Nitra, Košice and Banská Bystrica regions to phase out from coal extraction and coal-fired power generation by 2023. Among others, it will support energy efficiency measures for public buildings and innovative renewable solutions in the Trenčín /Upper Nitra region, the only coal mining region in Slovakia, where the Novaky coal-fired power plant will stop burning coal in 2023.
In June 2021, the €17.5bn Just Transition Fund (JTF) was created, combining €7.5bn from the EU's budget for the period 2021-2027 and €10bn from the Covid-19 recovery program (Next Generation EU, 2021-2023) to support countries and regions affected by the closure of energy-intensive industries and the phaseout of coal, peat and oil shale production. Funds will be dedicated to green investments, and not to the decommissioning of coal-fired or oil-fired power plants nor to the construction of nuclear power plants. Around one fifth on the financings will go to Poland, followed by Germany (13%) and Romania (11%). To access JTF support, the EU countries will have to submit territorial just transition plans. Those that have not yet committed to achieving a climate neutrality by 2050 will only be awarded 50% of their planned allocation.
---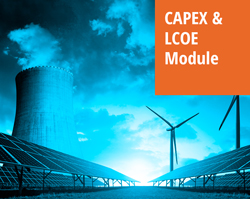 Then CAPEX & LCOE is the database you need. The module provides exclusive insights on both Capital Expenditure and Levelised Cost of Electricity.
Make informed decisions in terms of which technologies to invest in and where. In just a few clicks, access unique, premium data on both thermal and renewable power generation costs by technology and by country. Put our detailed, reliable information to use and benchmark your project.