European Commission approves Croatia's support to LNG terminal project
The European Commission has deemed the Croatian LNG terminal project on Krk island (Croatia) to be in line with EU State aid rules. The project will contribute to the security and diversification of energy supplies without unduly distorting competition. The €234m project received a €100m direct financial contribution from the Croatian State budget and was granted a tariff compensation (security of supply fee), in case revenues from the terminal fees are not sufficient to cover operating expenses. Those two support measures were cleared under EU State aid rules. The project also secured a €101m contribution from the Connecting Europe Facility (European Commission) and the remaining €32m was financed by the project's shareholders.
The Croatia LNG terminal project is developed by Hrvatska Elektroprivreda (HEP) (85%) and Plinacro (15%). It will consist of a floating storage and regasification unit (FSRU) and the connections to the national gas transmission network. It will be able to regasify up to 2.6 bcm/year of gas as of 2021.
---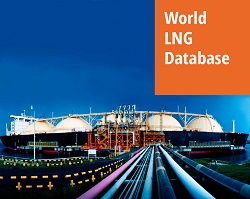 World LNG Database offers a complete set of data on LNG markets. The service provides detailed information on existing and planned liquefaction and regasification plants. It also includes LNG shipping around the world, LNG contracts, time series on regasification and liquefaction capacities, LNG flows and LNG prices for all players in the market.