The EU posted an 8.5% drop in GHG emissions in 2020
The European Union's greenhouse gas (GHG) emissions excluding LULUCF and international aviation decreased by -8.5% in 2020 to 3.7 GtCO2eq, according to the European Environment Agency. This reduction was due to the strong contraction in economic activity caused by the Covid-19 pandemic, with transport restrictions cutting CO2 emissions from road transport by 14% and the lower coal-fired power generation reducing CO2 emissions from the power and heat sector by 14%. Overall, the EU's GHG emissions in 2020 were 34% below their 1990 level.
The EU has experienced a 30-year downward trend which led to the achievement of its 2020 target to reduce emissions by 20% compared to 1990 levels. The EU had already reduced its emissions by 26% in 2019. A growing use of renewables, improvements in energy efficiency and the use of less carbon intensive fossil fuels have contributed to reaching the aforementioned objective. All sectors reduced emissions except for transport/refrigeration and air conditioning.
---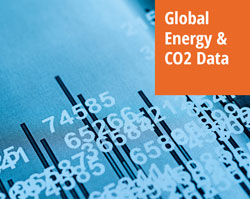 Then Global Energy Market Data & CO2 is your database! We provide world coverage of the oil, gas, coal, and power markets and a detailed overview of national supply & demand with annual data going back to 1970.
This energy database leverages more than 200 official data sources, which are processed by our analysts to provide fully harmonised data sets that are updated monthly.