EU Parliament approves EU ETS reform
The European Parliament has approved plans to reduce the number of carbon credits (emission allowances) by 2.2% each year and to double the capacity of the 2019 market stability reserve (MSR) to absorb the excess of allowances on the market.
MEPs approved the Commission proposal to increase the so-called linear reduction factor - the yearly reduction of credits in order to deliver on the carbon curbs - by 2.2% from 2021, as against 1.74% in the existing legislation. This factor should be kept under review with a view to increasing it to 2.4% by 2024 at the earliest. In addition, the MSR's capacity will be doubled to absorb the excess of credits on the market. When triggered, it would absorb up to 24% of the excess of credits in each auctioning year, for the first four years. They agreed that 800 million allowances should be removed from the MSR as of 1 January 2021.
Two funds will be set up and financed by auctioning ETS allowances. A modernisation fund will help to upgrade energy systems in lower-income member states, and an innovation fund will provide financial support for renewable energy, carbon capture and storage and low-carbon innovation projects.
In addition, the aviation sector should receive 10% fewer allowances than its 2014-2016 average, in order to bring its efforts in line with other sectors. Revenues from auctioning allowances in this sector will be used for climate action in the EU and third countries. In the absence of a comparable system operating under the International Maritime Organisation (IMO), the Parliament proposed setting up a "maritime climate fund" to compensate for maritime emissions, improve energy efficiency, facilitate investment in innovative technologies and reduce CO2 emissions from the sector.
---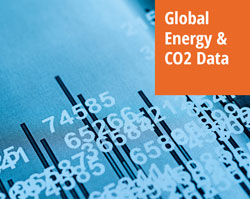 Then Global Energy Market Data & CO2 is your database! With world coverage of the oil, gas, coal and power markets and a detailed overview of national supply & demand annual data dating from 1970.
This energy database leverages more than 200 official data sources which are processed by our data specialists to provide fully harmonized data sets that are monthly updated.