Estonia, Latvia and Lithuania to cut power trade with Belarus and Russia
The government of Estonia, Latvia and Lithuania have signed an agreement on the functioning of energy trade with third countries after the start-up of the Ostrovets nuclear power plant in Belarus, which is located 20 km away from the Lithuanian border. The three Baltic countries pledged to stop energy trade with Belarus after the launch of the Ostrovets nuclear power plant, and a system of certificates of origin of electricity will be implemented for this purpose. In addition, they will introduce a single tariff for infrastructure use and decrease trading capacities with third countries. Electricity trade will be directed to the Russia-Latvia cross-section in reduced quantities, using the capacities left over from internal trade in the Baltic States. Electricity trade between Kaliningrad and Lithuania will continue in the current quantities. The new agreement will remain in force until the synchronisation of the Baltic electricity systems in late 2025.
The deal is expected to reduce trade between Estonia, Latvia and Lithuania with third countries by half. In 2019, only Estonia was a net exporter of electricity (1.9 TWh), while Latvia and Lithuania net imported 0.9 TWh and 9.6 TWh, respectively.
In August 2020, Rosatom started loading fuel into the Ostrovets-1 nuclear reactor, while commissioning is expected by the end of 2020. Upon completion, the Ostrovets nuclear power plant will entail two 1,109 MW VVER-1200 pressurized water reactors (PWRs); the second reactor is expected to be commissioned in 2021. Belarus obtained US$9bn loan from Russia for the project.
---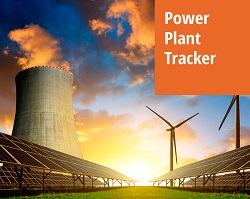 Enerdata has developed a market research service to screen, monitor and analyse the development of power generation assets.
Power Plant Tracker offers an interactive database and a powerful search engine covering power plants worldwide – including both installed and planned capacities for renewables and fossil fuels.