Eskom expects no load shedding before April 2016 (South Africa)
South Africa's national power utility Eskom does not anticipate any load shedding before late April 2016. The company has just reached 50 days without any load shedding despite significant maintenance projects being undertaken over the past two months. The power supply has improved with the commissioning of the first 749 MW unit at the Kusile power plant in August 2015, where construction is progressing well and which should be operational in the first half of 2017.
Rolling power cuts started in November 2014 following a dramatic reduction in the available capacity of the 3,600 MW Majuba coal-fired power plant (incident affecting the supply of five of the six units). The 4.8 GW Medupi coal-fired power plant was expected to be commissioned in December 2014 but it will start progressively between 2015 and 2018. The 4.8 GW Kusile project will also be commissioned between 2015 and 2018. The power system will thus remain tight until the completion of the repairs at Majuba and the commissioning of the first new units.
---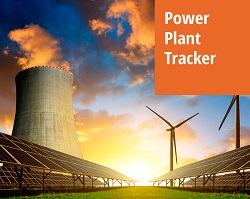 Enerdata has developed a market research service to screen, monitor and analyse the development of power generation assets.
Power Plant Tracker offers an interactive database and a powerful search engine covering power plants worldwide – including both installed and planned capacities for renewables and fossil fuels.