Equatorial Guinea announces US$1bn of energy projects
Equatorial Guinea has announced plans to develop energy projects worth US$1bn, including two new oil refineries. The first modular refinery would have a capacity of 20,000 bbl/d and transforms crude oil from Zafiro and Aseng fields. The second modular refinery would produce 10,000-20,000 bbl/d and would be located on the mainland in Kogo, with oil supplied by the Ceiba and Okume Complex.
The country also intends to construct oil product storage tanks, a methanol-to-gasoline plant and the expansion of an LNG project. In August 2019, Equatorial Guinea has awarded contracts for the development of an LNG import, regasification and storage terminal at the mainland port of Akonikien. Local construction and engineering firm Elite Construcciones will build the plant, which will include a 14,000 m3 storage capacity (twelve 1,230 m3 tanks).
Equatorial Guinea is an LNG producer and exporter, thanks to its 3.7 Mt/year (5 bcm/year) EG LNG liquefaction plant at Punta Europa on the Bioko Island (commissioned in 2007). The Akonikien project will store and regasify LNG that will be distributed across the country to gas-fired power plants. Equatorial Guinea will consume the generated electricity locally and will export surplus to neighbouring countries under the LNG2 Africa initiative.
---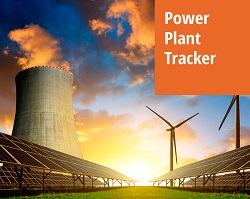 Enerdata has developed a market research service to screen, monitor and analyse the development of power generation assets.
Power Plant Tracker offers an interactive database and a powerful search engine covering power plants worldwide – including both installed and planned capacities for renewables and fossil fuels.