Eni makes a new oil and gas discovery at the Baleine field (Ivory Coast)
Eni has made a new oil and gas discovery at the Baleine field offshore Ivory Coast, increasing by around 25% the volumes of hydrocarbons in place. They are now estimated at 2.5 Gbl of oil and 93 bcm (3.3 tcf) of associated gas. The Baleine East 1X well was drilled in the CI-802 block, operated by Eni (90%), together with the Ivorian state-owned national oil and gas company Petroci (10%). A production test confirmed a potential output from Baleine East 1X well of 12,000 bbl/d of oil and 14 mcf/d (144 mcm/year) of natural gas. First oil is scheduled for the first half of 2023. 
In September 2021, Eni made an oil discovery in block CI-101 offshore Ivory Coast. The potential of the discovery was preliminarily estimated at the time at between 1.5 and 2 Gbl of oil in place and between 1.8 and 2.4 tcf (between 51 bcm and 68 bcm) of associated gas. In addition to CI-101 and CI-802 blocks, on which the Baleine Field extends, Eni owns interests in five other blocks in the Ivorian deepwater: CI-205, CI-501, CI-504, CI-401 and CI-801, all with Petroci.
Hydrocarbon reserves in Ivory Coast are estimated at 154 mbl for oil and 18 bcm for gas (2021). The country produced 29,000 bbl/d of oil and 2.4 bcm of gas in 2020. Canadian Natural Resources operates the CI-26 block (Espoir) with a 59% stake, in partnership with Tullow (UK, 21%) and Petroci (20%), and the CI-40 block (Baobab) with a 58% stake alongside Svenska (Sweden, 27%) and Petroci (15%). The two blocks account for 93% of Ivory Coast's oil production. Foxtrot (an affiliate of Bouygues) operates the CI-27 block (Foxtrot), which accounts for 2/3 of the country's natural gas output.
---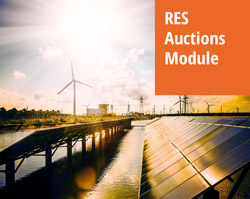 Discover our very detailed and regularly updated RES auctions database with worldwide coverage and a technical focus backed by academic research.
With our renewable energies auctions service you will be able to monitor auctions at a global level. Its (expanding) scope notably includes all major G20 countries and offers an especially fine tracking on Europe and South America.