Eni (Italy) presents its low-carbon entity Plenitude ahead of IPO
The Italian energy group Eni has presented its newly rebranded entity Plenitude, which will group together Eni's renewables generation, retail customers, electric vehicle charging and energy services activities. Plenitude will include Eni's existing renewable portfolio (1.2 GW) and will invest €5.9bn over the 2022-2025 period to raise its installed renewable capacity to over 6 GW by 2025 and to over 15 GW by 2030. So far, the group has more than 10 GW of identified projects under development - of which more than 5 GW are in operation, under construction or at a mature stage of development, exceeding the 6 GW target by 2025. The renewable portfolio will be diversified in terms of renewable technologies (solar, onshore and offshore wind, with an increasing focus on solar) and in terms of geographical scope. Plenitude also plans to participate with partners in tenders for offshore wind capacity, including in Norway, Scotland (United Kingdom), France and other countries, targeting 2 GW of offshore wind capacity. Moreover, the company will continue to integrate its renewable operations with retail operations, locating renewable assets where its retail customers are, and will invest in countries where there is a mature power market, well developed grids, reliable supply chains and established renewable developments.
In the retail market, Plenitude will capitalise on its exiting market base of 10 million customers, targeting 11.5 million by 2025 and more than 15 million by 2030. The company will invest €1bn over the 2022-2025 period and will seek to reach net zero CO2 emissions power sales by 2030 and net zero CO2 emissions gas sales by 2040. Plenitude will focus on international expansion (target of 60% of the customer base outside Italy by 2025) and will seek to increase its number of power customers by 2025, to offer dual-fuel contracts in Italy, France and Greece and to market renewable generation to large consumers through long-term power purchase agreements (PPAs). The company aims to to increase revenues associated with services by 30% by 2025 through energy efficiency offering, distributed generation market and customer-side energy management. Finally, Plenitude aims to raise its electric vehicle charging network from around 6,500 charging points in Italy to 27,000 by 2025 and to over 31,000 in Europe by 2030.
The new entity is in line with Eni's decarbonisation strategy and its plans to reach Net Zero scope 3 emissions by 2040, and in line with the  increasing demand for renewables and green energy products for retail customers. Eni plans to list Plenitude and the Initial Public Offering (IPO) is expected to be completed in 2022 subject to market conditions.
---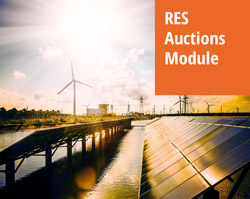 Discover our very detailed and regularly updated RES auctions database with worldwide coverage and a technical focus backed by academic research.
With our renewable energies auctions service you will be able to monitor auctions at a global level. Its (expanding) scope notably includes all major G20 countries and offers an especially fine tracking on Europe and South America.