Engie's revenue up by 1.7% in 2017
The French energy company Engie has published its 2017 annual results and reports a revenue growth of 1.7% in 2017 (on an organic basis) and a net income of €1.4bn (excluding E&P and LNG activities). The company invested and secured €13.9bn in 2017 (97% of its 2016-2018 €14.3bn growth Capex programme), including several acquisitions: the Chinese solar PV company Unisun, a remaining 41% stake in La Compagnie du Vent and concession contracts for two hydropower plants in Brazil.
Engie's installed capacity stood at 102.7 GW in 2017 (at 100%), while its projects under construction totalled 6.1 GW. 39% of the company's installed capacity is located in Europe, 30% in the Middle East and Turkey (META) and 18% in Latin America. 51% of the projects under construction are located in the Middle East and Turkey, while 33% are in Latin America and 9% in Asia. More than half (56%) of the company's installed capacity is gas-fired and 19% is made of hydropower facilities. As for the projects under construction (6.1 GW), 31% are coal-fired, 25% gas-fired, 22% wind power projects and 20% are solar projects. Engie generated 450 TWh in 2017 (37% META, 35% Europe, 15% Latin America) and 62% of this production came from gas-fired facilities. In France, Engie's installed capacity stood at 7.6 GW in 2017 (51% hydropower, 25% wind and 13% gas-fired facilities) and the group generated 18.9 TWh (65% from hydropower, 17% from wind and 12% from gas).
The company's long term gas supply portfolio - 506 TWh, of which 29% is LNG - is diversified: Norway accounted for 26% of the total, followed by Russia (25%), the Netherlands (17%) and Algeria (13%). The group sold 1,009 TWh of gas in 2017, including 559 TWh of non-regulated sales , 342 TWh of gas-to-power sales (PPAs) and 97 TWh of regulated sales (mostly in France).
The company is investing massively in low CO2 generation, networks and client solutions activities. In particular, its first geothermal power generation plant is under construction in Indonesia (with commissioning expected for 2019), while it acquired 178 MW of solar PV projects in France and 687.8 MW of renewable projects in Mexico.
---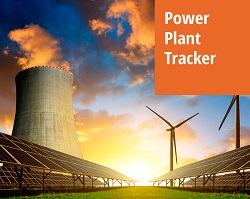 Enerdata has developed a market research service to screen, monitor and analyse the development of power generation assets.
Power Plant Tracker offers an interactive database and a powerful search engine covering power plants worldwide – including both installed and planned capacities for renewables and fossil fuels.