Enel (Italy) targets 75 GW of renewable capacity addition by 2030
The Italian energy group Enel has released its Enel Group Plan until 2030, which focuses on four main strategic lines: allocating capital to support a decarbonised electricity supply, enabling electrification of customer energy demand, leveraging full value chain's value creation, and bringing forward Sustainable Net Zero. To support a decarbonised electricity supply, the group plans to invest €210bn between 2021 and 2030 (up from a €190bn investment plan over the 2021-2030 period announced in November 2021), of which €170bn will be directly invested by the Enel group and €40bn through third parties. Around €160bn will be invested through the Ownership business model, mainly in countries with an integrated presence (Italy, Spain, Romania, the United States, Brazil, Chile, Colombia, and Peru): €70bn will be invested in renewables to add 75 GW of new renewable capacity and 9 GW of storage capacity, to reach 129 GW of renewable capacity by 2030. Enel will also invest around €70bn in its infrastructure and networks) and €10bn in equity injections and minority stakes acquisitions under its Stewardship business model. Enel has also brought forward its net-zero commitment for both direct and indirect emissions by 10 years, from 2050 to 2040, without resorting to any offsetting measures such as carbon removal technologies or nature-based solutions. The group plans to stop coal-fired power generation by 2027 and gas-fired power generation by 2040 thanks to new renewable and storage capacity. By 2040, all of its electricity sales should come from renewables. Moreover, Enel will exit its gas retail business by 2040.
In the short term, Enel plans to invest around €45bn over the 2022-2024 period (2022–2024 Strategic Plan), including €19bn into renewables to add 23 GW of renewable capacity between 2021 and 2024, raise the share of emission-free production to 77% in 2024 and cut CO2 emissions by more than 35% over the 3-year period. Enel will also invest €18bn in infrastructure and networks by 2024.
---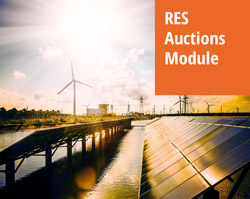 Discover our very detailed and regularly updated RES auctions database with worldwide coverage and a technical focus backed by academic research.
With our renewable energies auctions service you will be able to monitor auctions at a global level. Its (expanding) scope notably includes all major G20 countries and offers an especially fine tracking on Europe and South America.