Endesa (Spain) will invest €25bn in energy transformation by 2030
The Spanish energy group Endesa has unveiled its strategic plan until 2030, planning to invest €25bn between 2021 and 2030, of which 40% will be directed to raise its renewable capacity to over 18 GW (+10 GW compared to its 2020 capacity) and another 40% will be invested in the distribution sector. Endesa aims to raise the share of its CO2 emission-free power generation to 80% by 2030, and will completely phase out coal-fired power generation by 2027. The group will also promote storage systems (batteries and hydrogen projects) and electric vehicle charging points (up to 575,000 by 2030). Finally, it aims to raise the number of clients in the free market from 5.7 million in 2020 to around 7 million in 2030.
In the short term (over the 2021-2023 period), Endesa will invest €7.9bn in its energy transition, to accelerate decarbonisation and digitisation, of which €3.3bn will be invested to raise its renewable capacity by 50% to over 11 GW and reach 89% of CO2-free power generation in mainland Spain. By 2023, Endesa aims to add 3.9 GW of wind and solar capacity - exceeding the 2.5 GW of coal-fired to be decommissioned - raising the the share of its renewable capacity in mainland Spain from 45% in 2020 to 62% in late 2023.
---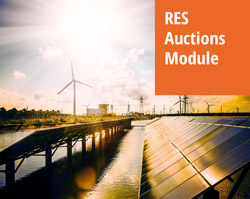 Discover our very detailed and regularly updated RES auctions database with worldwide coverage and a technical focus backed by academic research.
With our renewable energies auctions service you will be able to monitor auctions at a global level. Its (expanding) scope notably includes all major G20 countries and offers an especially fine tracking on Europe and South America.