Endesa and Iberdrola complete sale of their stake in Medgaz (Spain)
Iberdrola and Endesa have completed the sale of their 20% and 12% stakes in the Medgaz gas pipeline that supplies Spain with Algerian gas.
The companies had initially concluded a sale agreement with Fluxys (Belgium), which would have become the largest shareholder in the pipeline with 32%. However, Sonatrach and Cepsa, which held 26% and 20%, respectively in the gas pipeline, exercised their right of first refusal and had to acquire the sellers' stakes on the basis of their shareholdings: Iberdrola has just completed the sale of its 20% stake (10.6% to Sonatrach for €76.3m and 9.4% to Cepsa for €67.6m) and Endesa that of its 12% stake (6.3% to Sonatrach and 5.64% to Cepsa, for a total €83.8m). The transaction amounts to €228m. Thus, Cepsa rises from 20% to 35.04% its stake in Medgaz, while Sonatrach raises from 26% to 42.96% and consolidated as the main shareholders. Gas Natural Fenosa has another 10% of the capital and GDF SUEZ, the remaining 12%. GDF SUEZ announced the upcoming sale of its 12% stake and Sonatrach and Cepsa may further raise their stakes in the pipeline.
---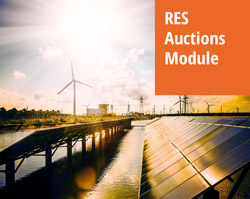 Discover our very detailed and regularly updated RES auctions database with worldwide coverage and a technical focus backed by academic research.
With our renewable energies auctions service you will be able to monitor auctions at a global level. Its (expanding) scope notably includes all major G20 countries and offers an especially fine tracking on Europe and South America.