EIA expects US gas production and exports to increase until 2050
According to the US Energy Information Administration (EIA), US dry gas production is expected to continue to increase through 2050, along with net gas exports. The United States became a net gas exporter in 2017, as the boom in domestic production reduced the need for gas imports from Canada and raised pipeline gas exports to Mexico and LNG exports. Total dry gas production should increase by nearly 1/3 between 2019 and 2050, from around 960 bcm in 2019 to over 1,270 bcm in 2050. Most of the growth would come from the continued development of tight and shale resources in the East, Gulf Coast, and Southwest regions, which accounted for 68% of the US gas production in 2019 and will reach 78% in 2050, while production should decline in other regions. With the commissioning of new LNG export projects, LNG exports are expected to triple, from around 1.7 Tcf (48 bcm) in 2019 to 5.8 Tcf (164 bcm) in 2030, and should remain stable through 2050.
---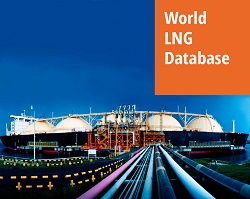 World LNG Database offers a complete set of data on LNG markets. The service provides detailed information on existing and planned liquefaction and regasification plants. It also includes LNG shipping around the world, LNG contracts, time series on regasification and liquefaction capacities, LNG flows and LNG prices for all players in the market.