Egypt reaches US$500m compensation agreement with Israel Electric
The Egyptian General Petroleum Corporation (EGPC) and Egyptian Natural Gas (EGAS) has signed a US$500m settlement with Israel state-owned power utility Israel Electric Corporation (IEC) as a compensation for cancelling a gas contract in 2012. Egyptian companies will pay this amount over a 8.5-year period; in turn, IEC will drop all other claims resulting from a 2015 arbitration ruling.
In 2005, Egypt and Israel signed a 20-year gas contract, which aimed to cover 40% of Israel gas consumption. The agreement was unpopular in Egypt over gas prices (below-market rates), payment disputes and declining Egyptian gas production against rising domestic demand. The gas pipeline in the Sinai region of Egypt was sabotaged several times and was blast in 2012, prompting Egypt to suspend deliveries for repairs and to eventually cancel the contract in 2012. IEC thus had to buy diesel to operate its power plants, to borrow money and to raise electricity tariffs; consequently, the company demanded compensation from the Egyptian gas companies. In 2015, the International Chamber of Commerce ordered Egypt to pay IEC around US$1.8bn in compensation for cancelling the contract. Egypt appealed the decision and finally reached an agreement for paying part of the amount in June 2019.
In early 2018, Israeli oil and gas companies Delek Drilling and Noble Energy signed an agreement with an Egyptian customer to export around US$15bn of gas from the Tamar and Leviathan fields off Israel. Gas exports to Egypt are expected to start in late June 2019.
---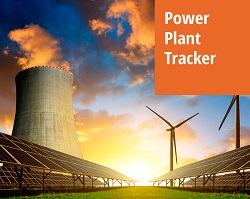 Enerdata has developed a market research service to screen, monitor and analyse the development of power generation assets.
Power Plant Tracker offers an interactive database and a powerful search engine covering power plants worldwide – including both installed and planned capacities for renewables and fossil fuels.