Egypt plans US$6.7bn refining and petrochemical complex in Suez
State-run Egyptian Petrochemicals Holding Company (ECHEM) has concluded a US$6.7bn deal with the US engineering and construction company Bechtel to build a refining and petrochemical complex in the Suez Canal Economic Zone (SCZone). No capacity nor commissioning date has been announced.
In January 2019, ECHEM released plans to invest US$8.5bn in the construction of a new refining and petrochemical project in the New El Alamein district near El Hamra (Egypt). The refining and petrochemical complex will have a production capacity of 3.4 Mt/year, including a refining capacity of 1.9 Mt/year for various oil products such as butane, kerosene, fuel oil and diesel. Neither the commissioning date nor the construction schedule have been unveiled so far.
---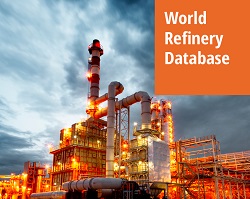 Use this powerful business intelligence tool to assess current and future production capacities of oil products by country and by zone. Gain insight into companies' asset portfolios and future trends for refined oil production capacities, giving you the ultimate edge for strategy and decision-making.