Egypt and Saudi Arabia move ahead with their power interconnection project
The Egyptian Electricity Transmission Company (EETC) and the Saudi Electricity Company (SEC) have awarded a €221m (US$260m) contract to Prysmian Group for a ±500 kV HVDC submarine and land cable system to create an interconnection between Egypt and Saudi Arabia. The signature of the contract is expected in early October 2021. The project will have a capacity of 3 GW. It will transport electricity between the Badr substation (Cairo, Egypt) and the Madinah East substation in Saudi Arabia, crossing the Gulf of Aqaba and spanning the territorial waters of Egypt and Saudi Arabia with a route length of approximately 20 km and deep-water installation at around 1,000 m. It will connect the Gulf Cooperation Council (GCC) countries with the African continent. The delivery and commissioning of the project are scheduled for 2024.
Saudi Arabia is also developing a 900 km-long, 500 kV high voltage overhead transmission line (OHTL) project, which will go through Medina and Tabuk on route to the Gulf of Aqaba, as part of the US$1.6bn project (62.5% Saudi-funded) to connect the electricity grids of Saudi Arabia and Egypt. In September 2021, eight companies submitted bids for this 500 kV line project in Saudi Arabia, namely Hyundai E&C (South Korea), National Contracting Company (Saudi Arabia), Saudi Services for Electro Mechanic Works (Saudi Arabia), Larsen & Toubro (India), National Petroleum Construction Company (United Arab Emirates), Aetcon (Saudi Arabia), a consortium of Al-Sharif Group and KEC (Saudi Arabia) and Alfanar (Saudi Arabia).
---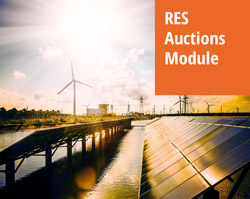 Discover our very detailed and regularly updated RES auctions database with worldwide coverage and a technical focus backed by academic research.
With our renewable energies auctions service you will be able to monitor auctions at a global level. Its (expanding) scope notably includes all major G20 countries and offers an especially fine tracking on Europe and South America.