Egypt agrees to supply natural gas to Lebanon
Egypt, Jordan, Lebanon and Syria have reached an agreement to provide Egyptian gas to Lebanon via Jordan and Syria in the next few weeks. The proposed Egyptian gas would help Lebanon resume the operation of idle gas-fired power plants and ease the power shortages in the energy-starved country. Lebanon is estimated to need 650 mcm/year of natural to generate 450 MW of power. As well, Syria has agreed to export power to Lebanon.
Lebanon has not imported natural gas since 2010. The Gasyle pipeline, a 32 km pipeline between the Dein Ammar power plant and the Syrian border with capacity of 1.1 bcm/year, was commissioned in 2005. The project was connected in 2009 to the Arab Gas Pipeline (10 bcm/year) linking Egypt to Israel, Jordan, Syria, Lebanon, and Turkey. The country became a gas importer in 2009, when the Arab Gas Pipeline (AGP) supplied 50 mcm of Egyptian gas to the Dein Ammar power plant. However, Egypt stopped gas exports to Lebanon in 2010.
According to the World Bank, the percentage of electricity demand unmet by the state-owned power utility EDL has increased from 22% in 2008 to 37% in 2018, leading to frequent power outages and forcing the Lebanese to rely on diesel-fired generators, which are increasingly unavailable due to oil supply problems. In addition, Lebanon's access to regional electricity grids has been cut due to the Syrian civil war (in 2010, almost 8% of the country's electricity demand was imported from Syria and Egypt, against around 0.5% in 2019).
---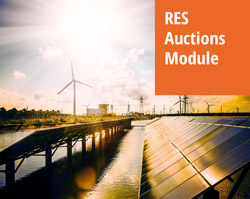 Discover our very detailed and regularly updated RES auctions database with worldwide coverage and a technical focus backed by academic research.
With our renewable energies auctions service you will be able to monitor auctions at a global level. Its (expanding) scope notably includes all major G20 countries and offers an especially fine tracking on Europe and South America.