EDF intends to unveil its new EPR nuclear reactor by mid-2021
EDF intends to release a new, less expensive version of its EPR nuclear reactor by mid-2021, as it would benefit from a reduction in necessary preparatory studies. In addition, EDF pledged to bring in new oversight measures for its major projects, in a bid to prevent costly delays in the construction of nuclear power plants. The group aims to standardise the construction of projects (robust sequencing of sites, compliant manufacturing and construction, new accreditation system for welders) to reach a 30% cost cut compared to the cost of a Flamanville site that would have taken place under normal conditions.
The French government has delayed a decision on new nuclear reactors until after the Flamanville 3 project is commissioned, which is now projected in 2024. In March 2020, the French government allowed EDF to postpone the deadline for commissioning its 1,650 MW EPR in Flamanville, extending it to 2024. The Flamanville project was initially expected to be commissioned in 2013 (completion of construction in late 2012) at a cost of €3.3bn. Technical problems have led to significant delays and cost escalation. In October 2019, EDF revised the construction schedule for the nuclear project and raised the estimated construction cost by €1.5bn to €12.4bn, after the adoption of a scenario for upgrading the main secondary system penetration welds with robots at the project. Consequently, EDF didn't plan to load fuel before late 2022 and planned to replace the reactor pressure vessel (RPV) in 2024.
---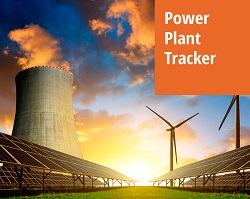 Enerdata has developed a market research service to screen, monitor and analyse the development of power generation assets.
Power Plant Tracker offers an interactive database and a powerful search engine covering power plants worldwide – including both installed and planned capacities for renewables and fossil fuels.