Dutch TSO demands to extract more gas than planned from Groningen in 2022
The Dutch gas transmission operator Gasunie Transport Services (GTS) has recommended an increase in gas production at the Groningen gas field from 3.9 bcm to 7.6 bcm on the period between October 2021 and September 2022 due to a delay in the commissioning of a nitrogen plant in Zuidbroek (Netherlands) and a high gas demand in Germany. After 2022, the field will be used as a reserve during an extremely cold situation and it should close in 2025-2026. 
In October 2019, the Dutch government announced that it would not seek to offset the end of gas extraction at the Groningen field in 2022 by increasing production from the 240 small gas fields in the country. Gas production in the Netherlands dropped by more than 70%, from 87 bcm in 2013 to 24 bcm in 2020, due to the production cap imposed on the Groningen field. In September 2021, the government confirmed the 2022 deadline and set a cap on gas production at 3.9 bcm.
NAM (Nederlandse Aardolie Maatschappij) (60%), a joint venture between Shell and ExxonMobil (50/50 JV) and EBN (40%), holds the unique production licence for the Groningen field.
---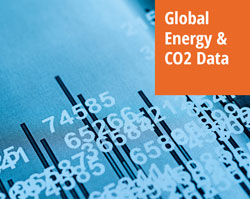 Then Global Energy Market Data & CO2 is your database! We provide world coverage of the oil, gas, coal, and power markets and a detailed overview of national supply & demand with annual data going back to 1970.
This energy database leverages more than 200 official data sources, which are processed by our analysts to provide fully harmonised data sets that are updated monthly.