Denmark ends new oil and gas exploration in the North Sea
Denmark has cancelled the ongoing 8th licensing round and all future rounds to extract oil and gas in the North Sea, after a majority in the Danish Parliament agreed to phase out fossil fuel extraction by 2050. In 2019, Denmark produced 102,000 bbl/d of crude oil and 3.3 bcm of natural gas. In December 2019, the Danish parliament adopted a new Climate Act with a legally binding objective to reduce greenhouse gas (GHG) emissions by 70% by 2030 (compared to the 1990 level). Denmark now intends to reach net-zero emission by 2050 and to cover 100% of power consumption with renewable energy by 2027.
In November 2020, the Danish Underground Consortium, which comprises Total (43.2%, operator), Noreco (36.8%), and the state-owned North Sea Fund (Nordsøfonden, 20%), delayed first gas production of the Tyra field redevelopment in the North Sea from 2022 to the second quarter of 2023. The project will enable Tyra to continue operations for another 25-year period at least and will allow the production of more than 200 mboe, of which 2/3 of gas and 1/3 of oil. The gas field is expected to reach a peak production of around 60,000 boe/d when back in operation.
---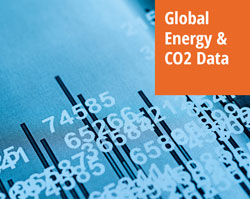 Then Global Energy Market Data & CO2 is your database! We provide world coverage of the oil, gas, coal, and power markets and a detailed overview of national supply & demand with annual data going back to 1970.
This energy database leverages more than 200 official data sources, which are processed by our analysts to provide fully harmonised data sets that are updated monthly.