Crown Estate Scotland launches new INTOG offshore wind leasing process (UK)
Crown Estate Scotland, the public corporation of the Scottish government responsible for the management of land and property, has opened its new Innovation and Targeted Oil and Gas (INTOG) offshore wind leasing process. Developers are being invited to bid for seabed leases off the coast of Scotland, United Kingdom, to build projects aiming to reduce emissions and boost innovation in the North Sea. After a two-week registration period, the opening of the application window will take place at the end of August 2022. The deadline for applications is 18 November 2022, and the auction results are expected in March 2023.
The auction will be split into two streams, with a 500 MW cap on innovation projects of less than 100 MW each, and a 4 GW cap on targeted oil and gas (TOG) projects, according to Scotland's Initial Plan Framework. The Scottish government has assigned zones off the east coast of the Scottish mainland and to the west of Shetland for TOG projects, which will be developed to electrify oil and gas infrastructure in the area. Innovation projects can be proposed in any location that is not marked for TOG projects. This includes seabed immediately off the east coast, to the west of the Western Isles and off Scotland's far southwest. Crown Estate Scotland has also decided to extend the option periods for proposed projects from five to seven years and to double the lease periods from 25 to 50 years for TOG schemes.
---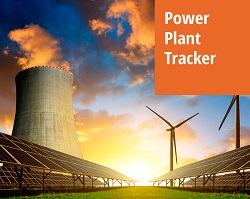 Enerdata has developed a market research service to screen, monitor and analyse the development of power generation assets.
Power Plant Tracker offers an interactive database and a powerful search engine covering power plants worldwide – including both installed and planned capacities for renewables and fossil fuels.