CrossWind wins a tender for a 759 MW offshore wind project (Netherlands)
CrossWind, a joint venture between Shell and Eneco, has won the tender for the 759 MW Hollandse Kust Noord offshore wind project, located off Egmond aan Zee in the Netherlands. The subsidy-free project is expected to be operational by 2023. The wind project would generate 3.3 TWh/year of renewable electricity, which would be supplied to a 200 MW hydrogen plant producing hydrogen and oxygen through electrolysis; CrossWind is working on a green hydrogen hub project on the Tweede Maasvlakte, in the port of Rotterdam (Netherlands). The final investment decision for the hydrogen plant has not been taken yet. The hydrogen hub could produce around 50-60 t/d of hydrogen in 2023, which would be used at Shell's refinery in Pernis and would reduce the refinery's CO2 emissions by around 0.2 Mt/year.
---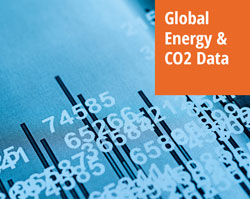 Then Global Energy Market Data & CO2 is your database! We provide world coverage of the oil, gas, coal, and power markets and a detailed overview of national supply & demand with annual data going back to 1970.
This energy database leverages more than 200 official data sources, which are processed by our analysts to provide fully harmonized data sets that are updated monthly.