Commission bets on smart grids for energy supply security in Europe
The European Commission expects smart grids to become Europe's shale gas, boosting the energy supply security and lowering electricity prices for consumers as the shale gas revolution did in the United States. Smarts grids would help integrate renewable power generation, which currently accounts for 25% of the EU's electricity supply but could rise to 50% by 2030, and would bring more flexibility. They would also allow energy to flow where and when it's needed, reducing by up to 30% the infrastructure capacity needed to meet demand. Smart grids, coupled with smart metering systems, are also expected to help customers to adapt their power consumption to different prices throughout the day and to lower their electricity bills. In addition, smart appliances could contribute to load management, with 40 million dynamic-demand refrigerators providing more than 1 GW of frequency response: demand response could save about €100bn/year. The European Union needs to invest around €400bn by 2020 to modernise its transmission and distribution networks (approximately €150bn in transmission networks and €250bn in distribution grids).
---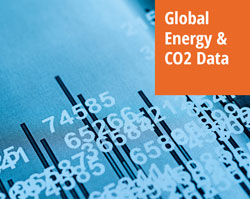 Then Global Energy Market Data & CO2 is your database! We provide world coverage of the oil, gas, coal, and power markets and a detailed overview of national supply & demand with annual data going back to 1970.
This energy database leverages more than 200 official data sources, which are processed by our analysts to provide fully harmonized data sets that are updated monthly.