CO2 emissions decreased by 2.5% in the EU in 2018
According to Eurostat's early estimates for the year 2018, carbon dioxide (CO2) emissions from fossil fuel combustion decreased by 2.5% in the European Union (EU) compared to 2017 levels. Although Germany reduced significantly is CO2 emissions in 2018 (-5.4%), the country remains Europe's largest carbon emitter with a 22.5% share of EU's total CO2 emissions in 2018, followed by the United Kingdom with a share of 11.4%.
With a rise of 3.5% of its energy-related emissions, Poland has become EU's third largest CO2 emitter in 2018, with a 10.3% share in total emissions, exceeding France and Italy (10% each)
Remarquable energy-related CO2 emission reductions where recorded in Portugal (-9.0%), Bulgaria (-8.1%), Ireland (-6.8%), the Netherlands (-4.6%) and Croatia (-4.3%), Greece (-.36%), France (-3.5%), Italy (-3.5%) and Spain (-3.2%
Conserversely, countries that have registered an increase in emissions were Latvia (+8.5%), Malta (+6.7%), Estonia (+4.5%), Luxembourg (+3.7%), Poland (+3.5%), Slovakia (+2.4%), Finland (+1.9%) and Lithuania (+0.6%).
---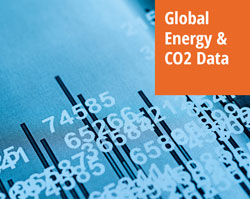 Then Global Energy Market Data & CO2 is your database! We provide world coverage of the oil, gas, coal, and power markets and a detailed overview of national supply & demand with annual data going back to 1970.
This energy database leverages more than 200 official data sources, which are processed by our analysts to provide fully harmonized data sets that are updated monthly.