China's power generation fell in 2015, for the first time since 1968
According to the National Bureau of Statistics of China, power generation in China slightly declined in 2015 (-0.2%) to 5,618 TWh, posting the first decrease since 1968. Total thermal power generation fell by 2.8%, with thermal plants utilisation rates standing at a record low during the year, while hydropower generation increased by 4.2%. Installed power capacity increased by more than 10% to more than 1,500 GW: thermal power capacity rose by 7.8%, while hydropower capacity rose by 4.9% and nuclear capacity by 30% to more than 26 GW.
This slight decline in power generation is linked to a lower steel production (-2.3% to 804 Mt, first fall since 1981), due to a weak demand and a large supply glut, reducing electricity and coal consumption. A slowdown in construction also affected the energy-intensive cement industry, reducing production by 4.9% in 2015, and reducing demand for coal and power as well. The higher hydropower generation and strengthened environmental constraints reduced coal consumption, whose production contracted by 3.5% in 2015 (second annual fall in a raw).
Electricity consumption increased slightly in 2015 (+0.5%), as industrial consumption dipped by 1.4% (-1.9% for heavy industry but +1.3% for light industry), highlighting the growing gap between industrial growth in China and energy consumption. Electricity demand from the services sector rose by 7.5%, while that from households progressed by 5% (+2.5% in agriculture).
---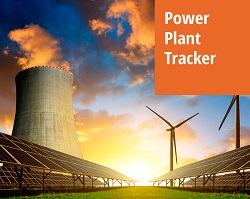 Enerdata has developed a market research service to screen, monitor and analyse the development of power generation assets.
Power Plant Tracker offers an interactive database and a powerful search engine covering power plants worldwide – including both installed and planned capacities for renewables and fossil fuels.