China's installed capacity grew by 7.6% in 2017 to nearly 1800 GW
According to the Chinese National Bureau of Statistics, the Chinese installed power capacity rose by 7.6% to more than 1,770 GW in 2017. Over 60% of this capacity was thermal, as fossil-fired power capacity rose by 4.3% to over 1,100 GW. CO2-free power capacities also grew significantly in 2017: hydropower capacity reached 341 GW (+2.7%), nuclear capacity 35.8 GW (+6.5%), wind capacity 164 GW (+10.5%) and solar power capacity 130 GW (+69%) according to the NBS.
Power generation grew by 5.9% to 6,495 TWh, thanks to a 5.1% increase in thermal power generation (4,663 TWh); hydropower generation only grew by 0.5% to 1,190 TWh, while nuclear generation soared by 16% to 248 TWh. Coal production grew by 3.3% during the year, while gas production rose by 8.2% to 148 bcm and crude oil production dipped by 4.1% to 191.5 Mt.
According to the NBS, China's total energy consumption rose by 2.9% to 4.49 Gtce, which is still below the 2020 target of 5 Gtce. Coal consumption increased by 0.4%, as crude oil (+5.2%), natural gas (+15%) and power consumption (+6.6%). Coal accounted for 60.4% of the total domestic energy consumption (-1.6 percentage point on 2016), while the consumption of other energies (including natural gas, hydropower, nuclear power and wind power) accounted for 20.8% (+1.3 percentage point). The domestic carbon intensity (CO2 emissions per unit of GDP) dropped by 5.1% in 2017.
---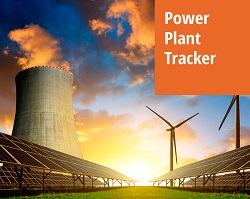 Enerdata has developed a market research service to screen, monitor and analyse the development of power generation assets.
Power Plant Tracker offers an interactive database and a powerful search engine covering power plants worldwide – including both installed and planned capacities for renewables and fossil fuels.