China's installed capacity grew by 7.6% in 2017 to nearly 1800 GW
According to the Chinese National Bureau of Statistics, the Chinese installed power capacity rose by 7.6% to more than 1,770 GW in 2017. Over 60% of this capacity was thermal, as fossil-fired power capacity rose by 4.3% to over 1,100 GW. CO2-free power capacities also grew significantly in 2017: hydropower capacity reached 341 GW (+2.7%), nuclear capacity 35.8 GW (+6.5%), wind capacity 164 GW (+10.5%) and solar power capacity 130 GW (+69%) according to the NBS.
Power generation grew by 5.9% to 6,495 TWh, thanks to a 5.1% increase in thermal power generation (4,663 TWh); hydropower generation only grew by 0.5% to 1,190 TWh, while nuclear generation soared by 16% to 248 TWh. Coal production grew by 3.3% during the year, while gas production rose by 8.2% to 148 bcm and crude oil production dipped by 4.1% to 191.5 Mt.
According to the NBS, China's total energy consumption rose by 2.9% to 4.49 Gtce, which is still below the 2020 target of 5 Gtce. Coal consumption increased by 0.4%, as crude oil (+5.2%), natural gas (+15%) and power consumption (+6.6%). Coal accounted for 60.4% of the total domestic energy consumption (-1.6 percentage point on 2016), while the consumption of other energies (including natural gas, hydropower, nuclear power and wind power) accounted for 20.8% (+1.3 percentage point). The domestic carbon intensity (CO2 emissions per unit of GDP) dropped by 5.1% in 2017.
---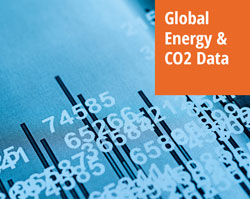 Then Global Energy Market Data & CO2 is your database! We provide world coverage of the oil, gas, coal, and power markets and a detailed overview of national supply & demand with annual data going back to 1970.
This energy database leverages more than 200 official data sources, which are processed by our analysts to provide fully harmonized data sets that are updated monthly.